A trusted family business since 1935
About Us
Providing stress-free, reliable and high-quality vehicle body work services in Toowoomba and the Darling Downs since 1935
Col Wilkie Body Works is a family business purchased from Ben Wilkie by his son, Col, and wife, Gail, in 1968.
Col built the business over 40 years employing up to 20 staff and overseeing the adoption of the latest technologies. Son, Steve, having completed both his panel and paint trades with Col Wilkie, bought the business in 2008. Steve manages the business with wife, Hannah, and sister, Kerri Crisp.
Three generations have played a vital role in developing Col Wilkie Body Works with the business starting as one-man effort in 1935.
Col Wilkie Body Works has expanded from the original building used by Ben Wilkie to its current status, which engulfs most of Instow Street. Each building in the complex has a designated role in the work to be performed and a final inspection area. The buildings are fully exhaust-fitted and drained for the critical role of preparation.
The professionalism of Col Wilkie Body Works has held the family business in good stead within the Darling Downs community for many years. High ethics have been reinforced amongst staff members, guaranteeing a professional service and ensuring high customer satisfaction.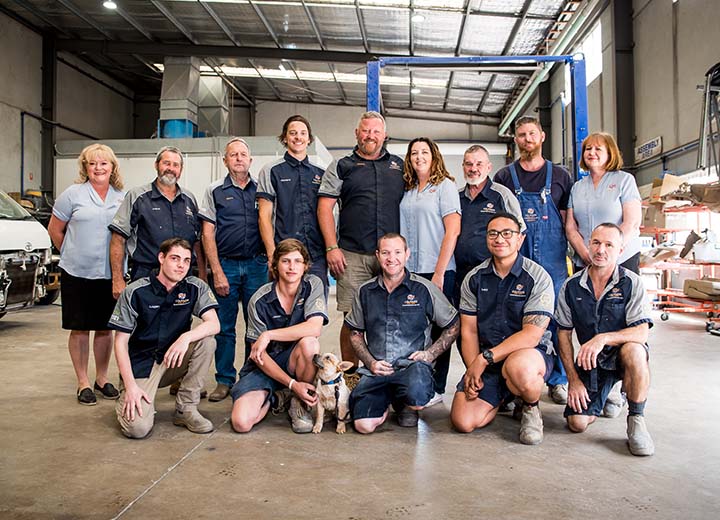 Our team will never recommend something we wouldn't want done to our own car. At Col Wilkie Body Works, we believe in the importance of educating our clients on all their options, whether it's about smash repairs or vehicle insurance claims. Even if you need a service we don't offer, our team ensure you are armed with enough knowledge so you don't pay for something you don't need.